What We Do!

About Azleway
Azleway has been faithfully restoring lives and relationships of children in crisis since 1979. We have had the privilege of helping thousands of children and families in their time of desperate need.
Mission Statement
Azleway – A faith based agency, providing opportunities through quality services to children and families.
Foster Care
Azleway Children's Services is currently recruiting foster families to help reduce the number of children waiting for placement. Azleway, Inc. is responding to the needs of these children in crisis by expanding our therapeutic foster care program, providing financial support and intensive training for foster parents.
Adoption
Adoption services are now available for individuals and couples willing to provide a loving home to a child. There are thousands of children looking for a forever home in Texas, and Azleway can help match you with a child to complete your family. We will help guide prospective families through the adoption process.
Special Events & News

Become a Foster Parent
For more information about how to become a foster parent, please contact the office nearest you. 
Tyler - Call 903-566-8444
DFW Metroplex Area -Call 972-206-2885
Houston/Humble - Call 281-446-8038
Nacogdoches - Call 936-205-5641
Recruitment and Marketing Coordinator - Keitha Douglas - Call 713-539-2762
Recruitment - Amy Brackley - Call 432-553-4136
To report child abuse and neglect please call 1-800-252-5400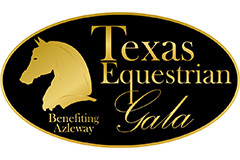 Texas Equestrian Gala benefiting Azleway
Spring 2024
TO PURCHASE TICKETS
Get Involved!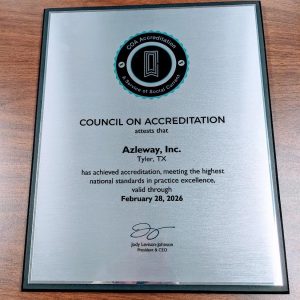 Azleway has exciting news to announce! This year, we achieved national accreditation through the New York-based Council on Accreditation (COA).